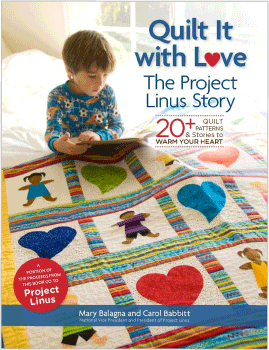 Quilt It with Love
Order Now
With moving letters and over 20 beautiful projects, this unique book tells an unforgettable story about quilting from the heart, and sending love in a warm, handmade hug.
Since 1995, the Project Linus organization has brought comfort and security to children who are seriously ill, traumatized, or otherwise in need by donating quilts and blankets crafted with care by hand. Now you can find inspiration in the words of those who have been touched by this compassionate organization (from quilt recipients to quilt makers) and also make an assortment of quilts, perfect for giving.
These remarkable quilts have been designed primarily for children and teens by the authors, Carol Babbitt and Mary Balagna, and Project Linus members. From crazy quilting to strip piecing, a wide array of techniques and styles are represented in the collection. Several quilts use fat quarters and other fabric precuts for quick crafting. Others feature fun interactive elements: one quilt has pockets for storing stuffed animals, another doubles as a game board, and yet another has "windows" that open and close for added fun. This book also includes a basic section and clear how-to illustrations throughout, suitable for beginners and intermediate quilters alike.
Quilt It with Love is a wonderful opportunity to explore how crafting can make a difference in so many people's lives.
Exclusives! Each book purchased from our website is personally signed by the authors,  Mary Balagna and Carol Babbitt. In addition, all proceeds from sales through our website support Project Linus.