Exploring the World With Ethan!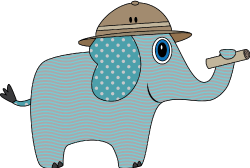 2018 Mystery Quilt Contest
Announcing the Winners
Response to our Exploring the World with Ethan contest has been tremendous! From a total of 10,034 votes cast, raising $10,034 for our chapters, we are excited to announce our winners. Many thanks to all who participated in our challenge and to everyone who voted for their favorites.
First Place Winner
Elizabeth Tang-Kong
First place winner Elizabeth Tang-Kong was awarded a Janome 3160 QDC-B Sewing Machine (a $699.00 value), donated by The Times Square Sewing Complex in Jacksonville Illinois.
Second Place Winner
Shelly Mathews
Second place winner Shelly Mathews was awarded an ACCU-QUILT GO! Fabric Cutter Starter Set, a $249.99 value.
Third Place Winner
Debbi Isted
Third place winner Debbi Isted was awarded 100 Fat Quarters, a $300.00 value.
Fourth Place Winner
Diane Timpano
Fourth place winner Diane Timpano was awarded a 90" × 40" roll of Warm and Natural Needled Cotton Batting, a $300.00 value.
Honorable Mention
Sue Gauglitz
Honorable mention Sue Gauglitz was awarded a Moda 35 Fat Quarter Stack "Corner of 5th and Fun," a $120 value.
What's Coming Next?
We are already thinking about what our next challenge and contest will be. Look for more details in the August 2018 time frame.